New museum in San Benito chronicles Freddy Fender's life
Web Posted: 11/23/2007 05:59 PM CST
Elaine Ayala
Express-News Staff Writer
SAN BENITO — It is by no means a big-city museum. With only 450 square feet of space in the San Benito Community Center, the new Freddy Fender Museum has to content itself with being a little museum with a big heart.
On Nov. 17, it opened to city leaders, family members and ordinary fans, all paying tribute to the late singer known by many handles, including the Bebop Kid, a Texas Tornado, one of the Super Seven and, in the end, by his given name, Baldemar Huerta.
The museum showcases memorabilia amassed over more than 50 years of his career, most of it drawn from family archives. Included are two of Fender's gold records (for "Wasted Days and Wasted Nights" and "Before the Next Teardrop Falls"), his blue Harley-Davidson and awards such as "Most Promising Male Vocalist" from the Academy of Country Music, which he received in 1975.
Also among the treasures are a couple of worn guitars, a giant "Freddy Fender" belt buckle, even a jar of his own picante sauce.
But the draw was in the words and images of a boy born in the poor neighborhood of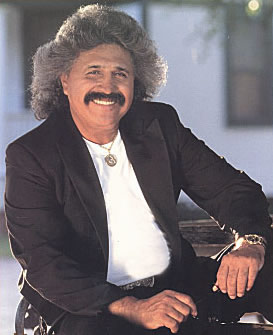 El Jardín who grew up to be a superstar, performing for presidents, in Carnegie Hall and alongside Hollywood's and Nashville's biggest entertainers.
"They say you only get to the top once," said his wife of 49 years, Vangie Huerta. "Freddy went three, four times."
In spite of his success, said San Antonio record promoter Eddie Teichman, a longtime Fender friend, "He never changed very much. He was very San Benito. He was a Texas country boy."
That Fender was able to sustain a musical career is at the heart of the museum's story, said Ron Rogers, another longtime friend and the museum's curator.
"He had a career for 50 years," Rogers said. "He wasn't just a country-music star. He was doing rock en español back in the '50s."
The Fender museum is one of three that opened here Nov. 17 in the same facility. The San Benito History Museum, which chronicles the town's beginnings, and the Texas Conjunto Hall of Fame and Museum, which honors the musical genre born in this town, each got 450 square feet of space to tell their stories, too.
The city gave each $10,000 to get their doors open. Mayor Joe Hernandez calls it just a beginning.
Within a year, San Benito plans to build a $1.4 million building, next to the existing one, which will expand all three museums and create an accompanying dance hall.
The city has a rich music history, Hernandez said. "It created the king of conjunto (music great Narciso Martinez) and the king of Tex-Mex," a reference to Fender.
"Freddy is here," Vangie Huerta said of the museum.
"It really touches my heart," she said, getting misty-eyed, "because people are looking at him, (because) he was poor, hungry poor."
Indeed, Fender's life, which the museum presents chronologically, begins with a reference to his father's death while he was still an infant. Fender's mother couldn't afford rent and lived in a tin shack with her son for a year.
At 12, Fender worked as a migrant farm worker, picking beets in Michigan and tomatoes in Arkansas. At 16, he dropped out of high school. Later, he joined the Marines. All the while, he played his guitar, even broken ones, and sang.
The museum offers a wide array of photographs from the singer's early life in San Benito, sitting on top of a horse, wearing a cowboy hat, and as a young rock 'n' roll singer working under several names that some fans may not remember, including Eddie Medina (Medina was his mother's maiden name), Scotty Wayne, Little Beanie, even the Mexican Elvis Presley.
"I was always different," says one of the narratives on the museum's walls. "I wasn't doing the conjunto stuff. I was doing rock 'n' roll ballads, just like I'm doing now, and rhythm and blues. Now I'm beginning to feel the kind of music that I heard when I was a young person and enjoy performing the nitty-gritty conjunto songs that I sing with Flaco Jimenez and the Tornados."
The three museums are in downtown San Benito, at 210 E. Heywood. They are open from 10 a.m. to 4 p.m. Thursdays through Saturdays. Admission is $3.
For more information, call (956) 361-3800.
From the San Antonio Express news.
BIOGRAPHY | AWARDS | SHOPPING | GUESTBOOK |
The Freddy Fender Scholarship Fund

FREDDY'S MESSAGES FROM JULY 1 TO OCTOBER 14
CREDIT CARD PURCHASES ARE NOW BACK ONLINE